Original Lift & Shape Tape By Perky Pear® BEIGE
Regular price

£17.99

Sale price

£13.99
The Original lift & Shape Boob Tape was the first in our breast lift tape range established 2016 and made in the UK. Created by our F cup founder for women who need support without the limitations of a bra!
Our boob uplift tape features our patented Heat Activation Adhesive Technology to allow adhesive to bond gently to the skin activated by body temperature and gets stickier the longer it is worn. Voted best by press! So whether you are searching for boob tape for backless dresses, boob tape for strapless dresses, deep plunge tops, low cut dresses or more, we can help!
◦ 4 pieces of Lift & Shape Nude Boob Tape per pack
◦ Sweat proof, waterproof & hypoallergenic adhesive tape
◦ Stretchy soft cotton adhesive tape that moves with you preventing pinging off
◦ Can be cut or angled to suit any tricky neckline
◦ Strong Long lasting- we recommend removing after 6-8 hours for skin safety
◦ Tape created for large and small boobs to create a rounder lifted cleavage
◦ Lifts & Shapes in a single step with our iconic Pear Design
◦ Essential uplifting and shaping cleavage tape solutions for any occasion- bridal lingerie, wedding guest, prom dresses, hen parties, summer parties, date nights
◦ One time use. Once removed the adhesive bond will also be removed
Check your fit here with our SIZE GUIDE (did you know that 85% of women don't know their accurate bra size!)
MORE PRODUCT INFORMATION

With the same elasticity as human skin, our tape is a lightweight cotton second skin feel which stretches & moves with you for long lasting hold. See application and removal videos for optimum results and safe removal.

(i)Skin Safety Information:
Our Tape is Hypoallergenic and medical grade but please avoid if you are allergic to plasters/band aids.
We recommend doing a patch test 24 hours before applying using a small section of tape on the chest area to check for allergies.

Adhesive tapes can cause skin irritation in certain circumstances and cannot be totally exempt from injury to the skin for 100% of users, a small percentage may experience some irritation. Please read all safety information provided with your products on the packaging and leaflets before use. We also have a dedicated page on this on our main website menu on how to avoid skin irritation and how to wear tape safely
HOW TO USE
Returns Details

Please note: Due to hygiene reasons this product is non-returnable when opened please see our returns page
SHIPPING

STANDARD TRACKED SHIPPING – £3.99 ( 2-3 Working Days)

EXPRESS TRACKED – £4.99 (1-3 Working Days)

REMIUM NEXT DAY TRACKED – £6.99(1 Working Day )

Shipping options are dependant of location, see more specific shipping info here
Share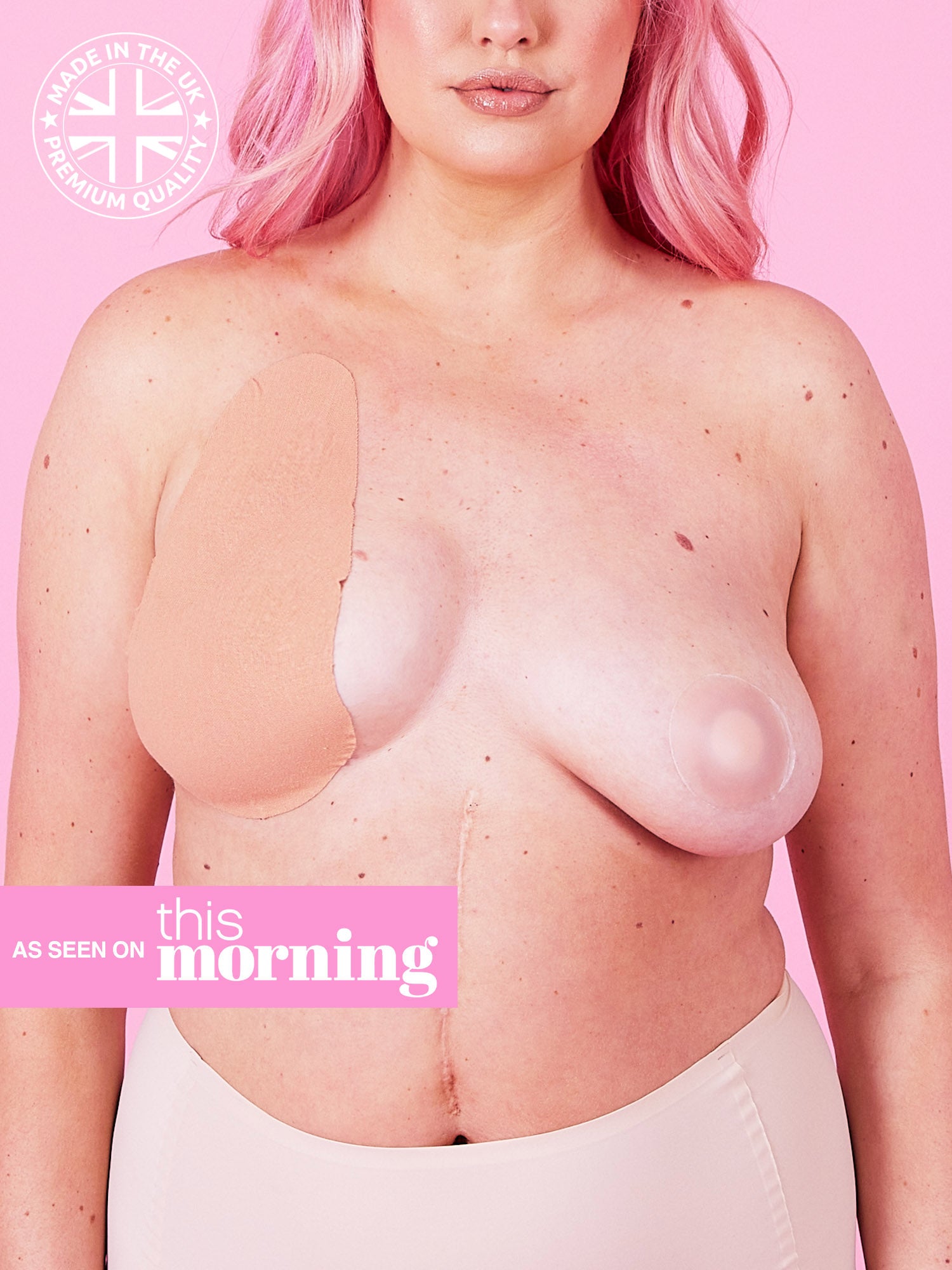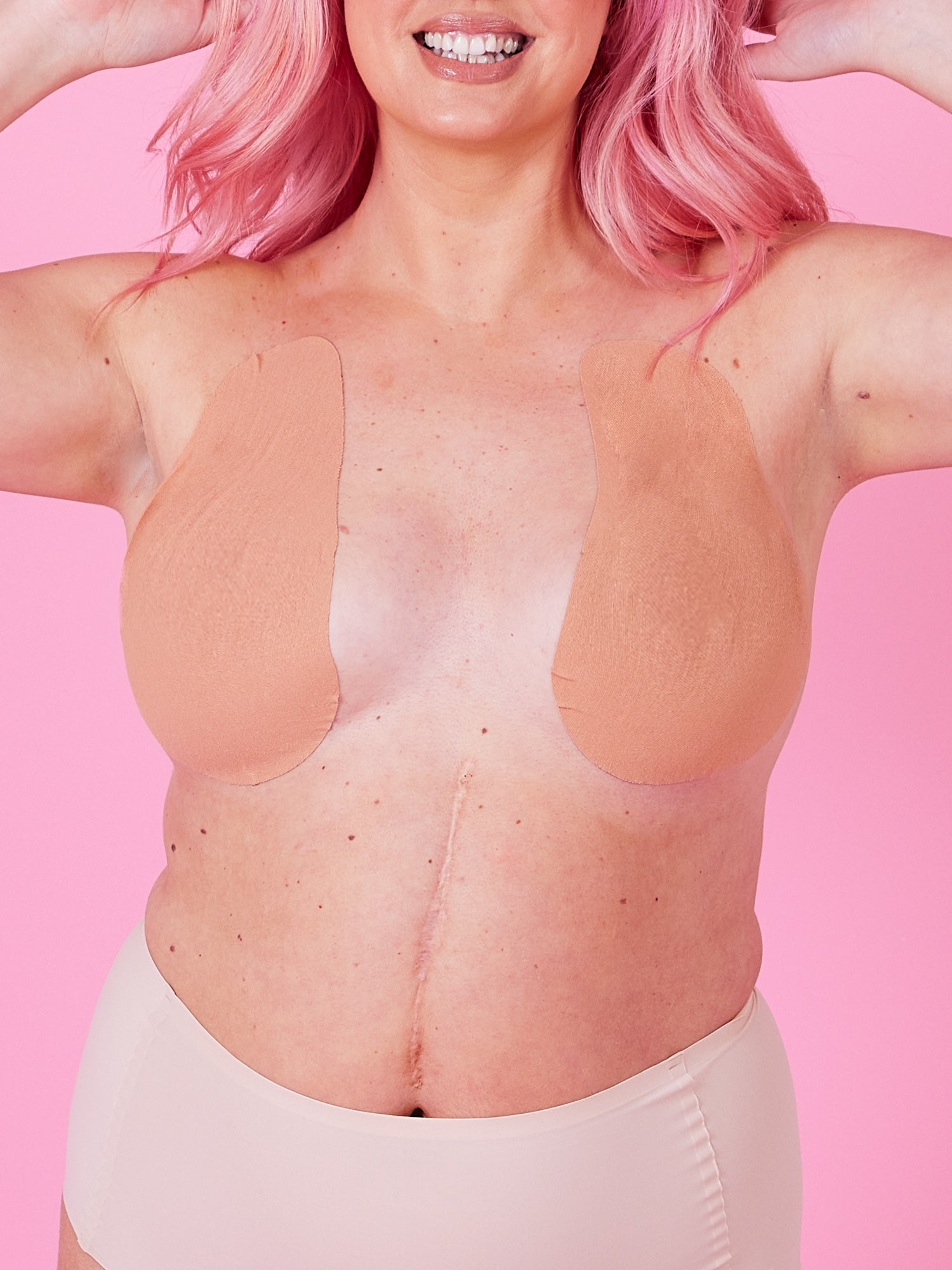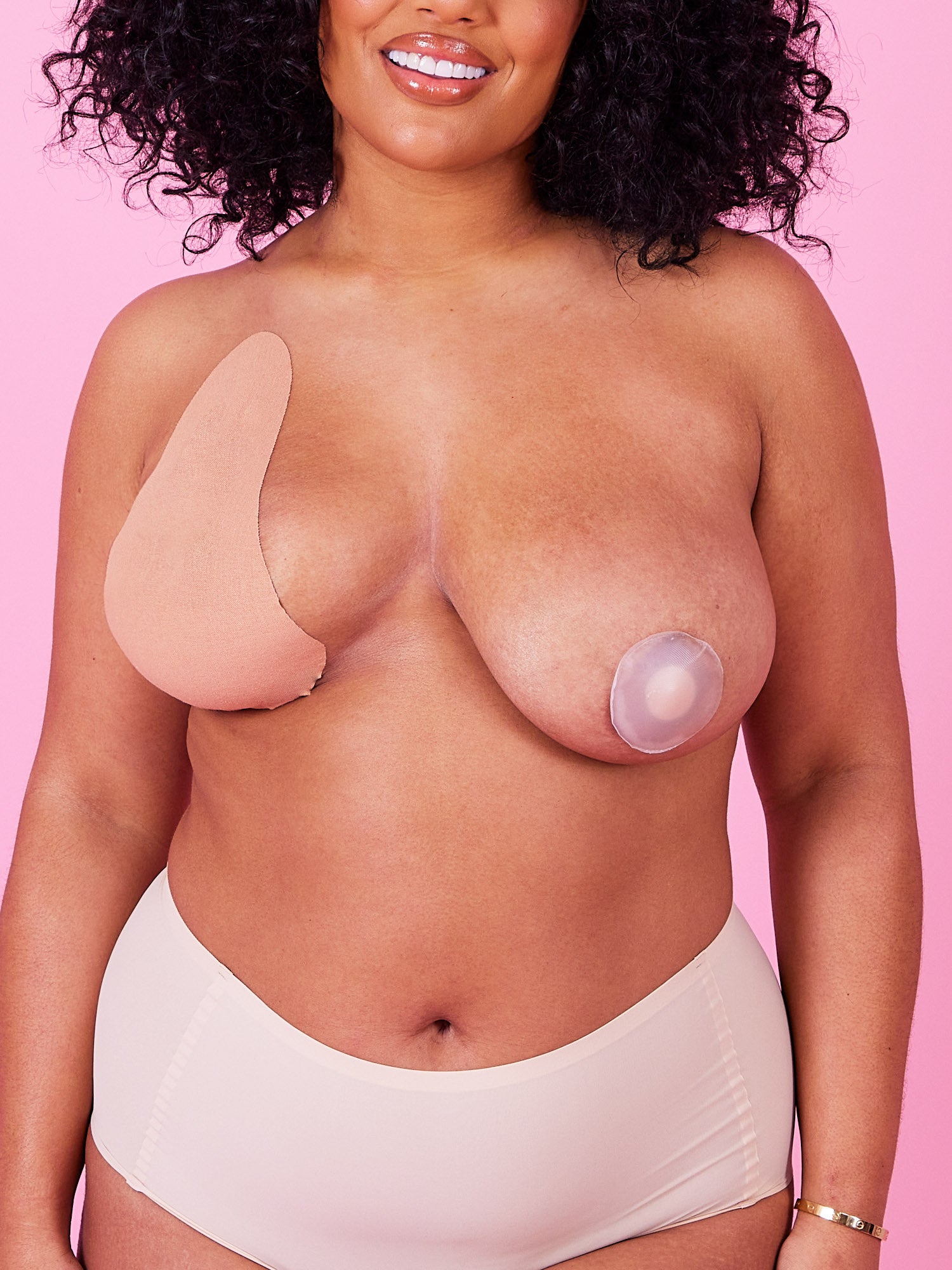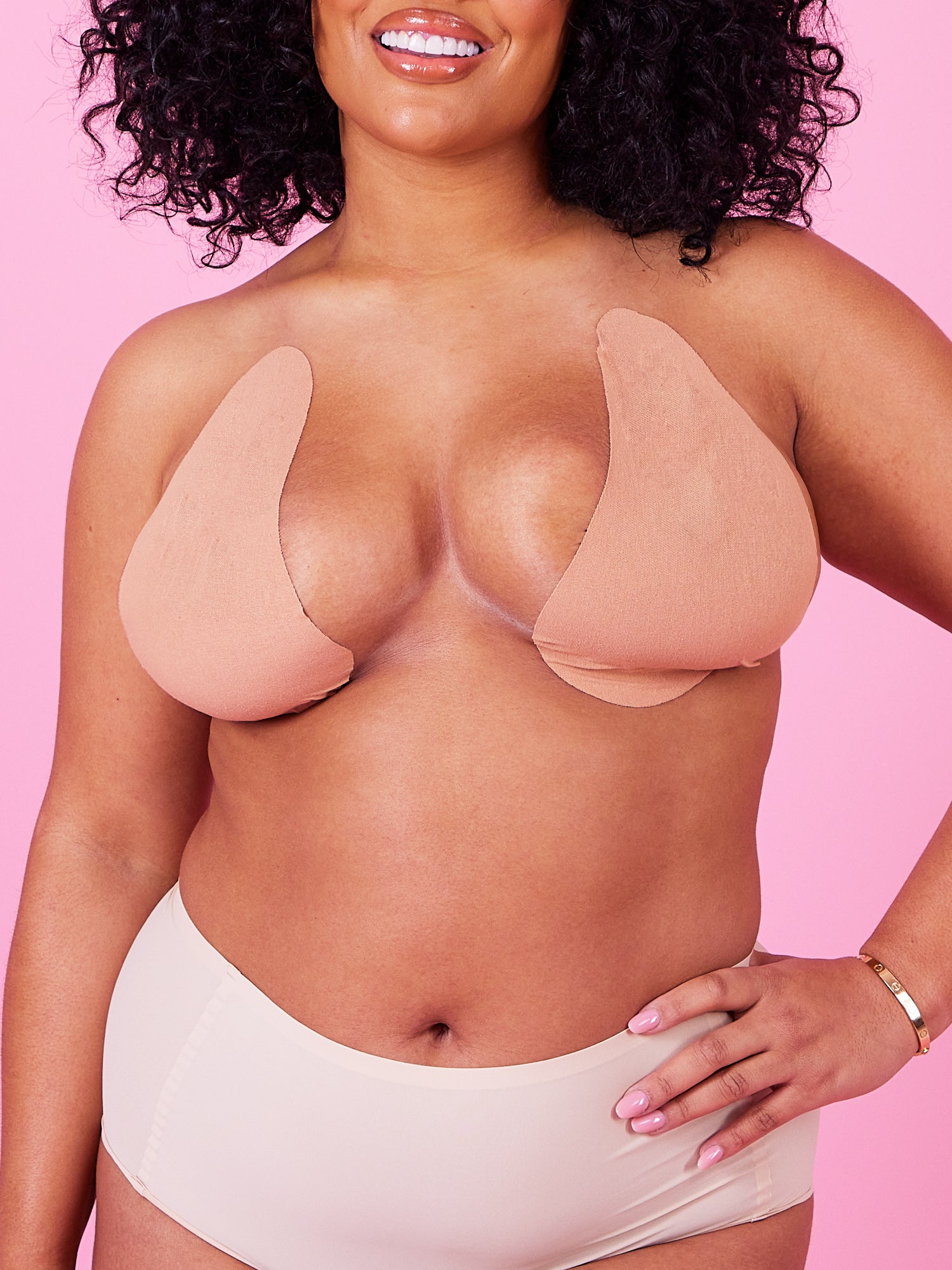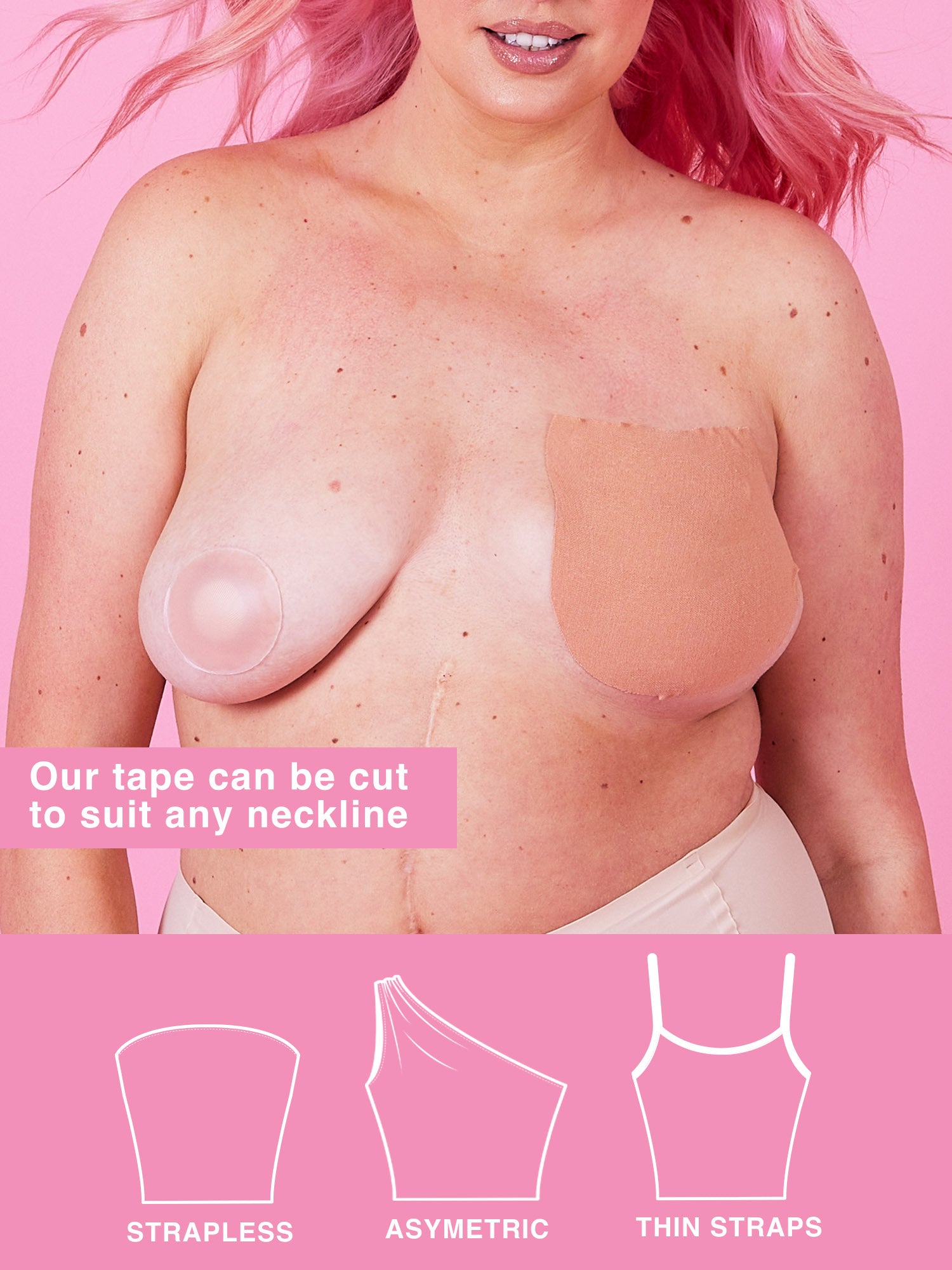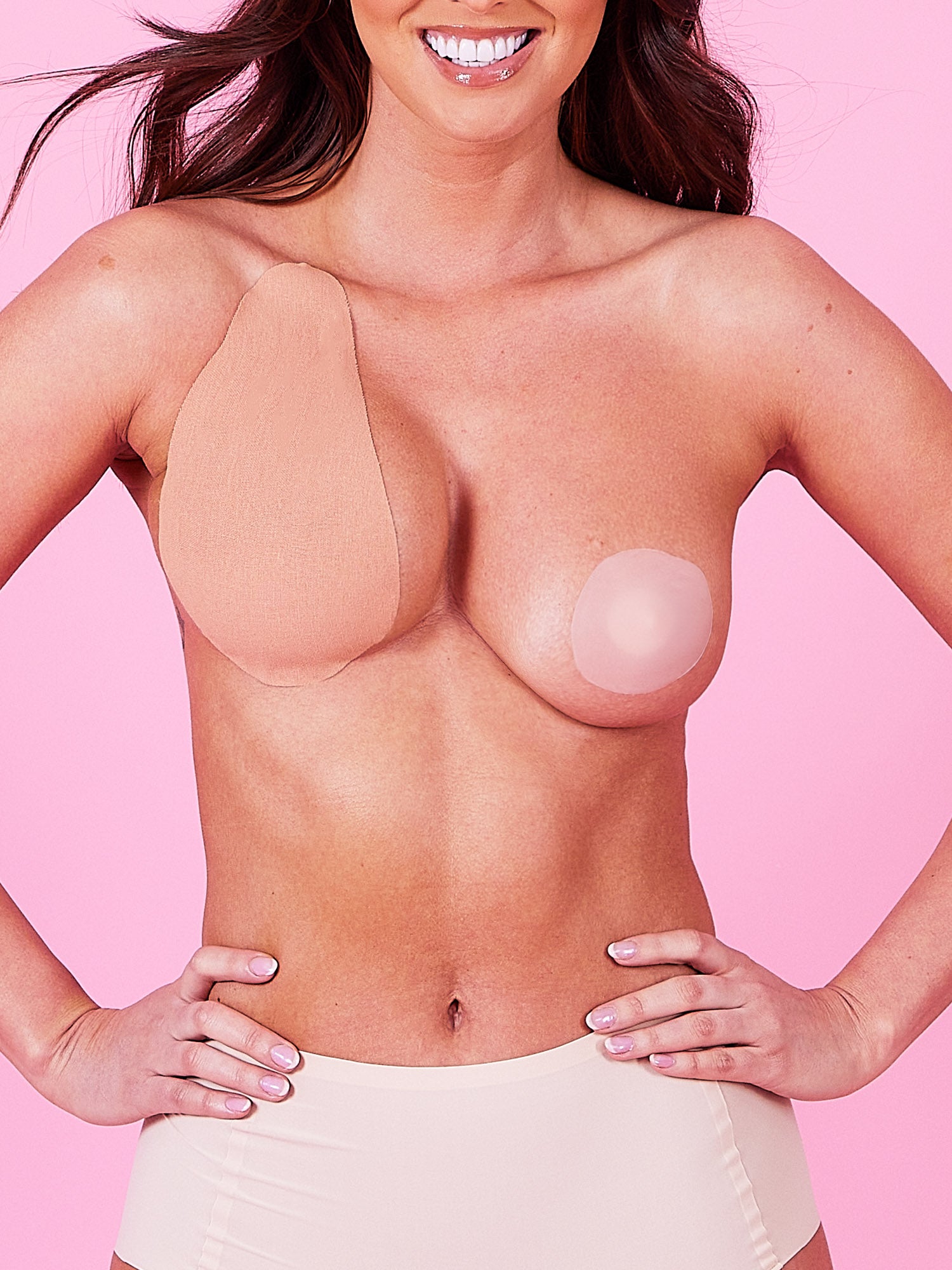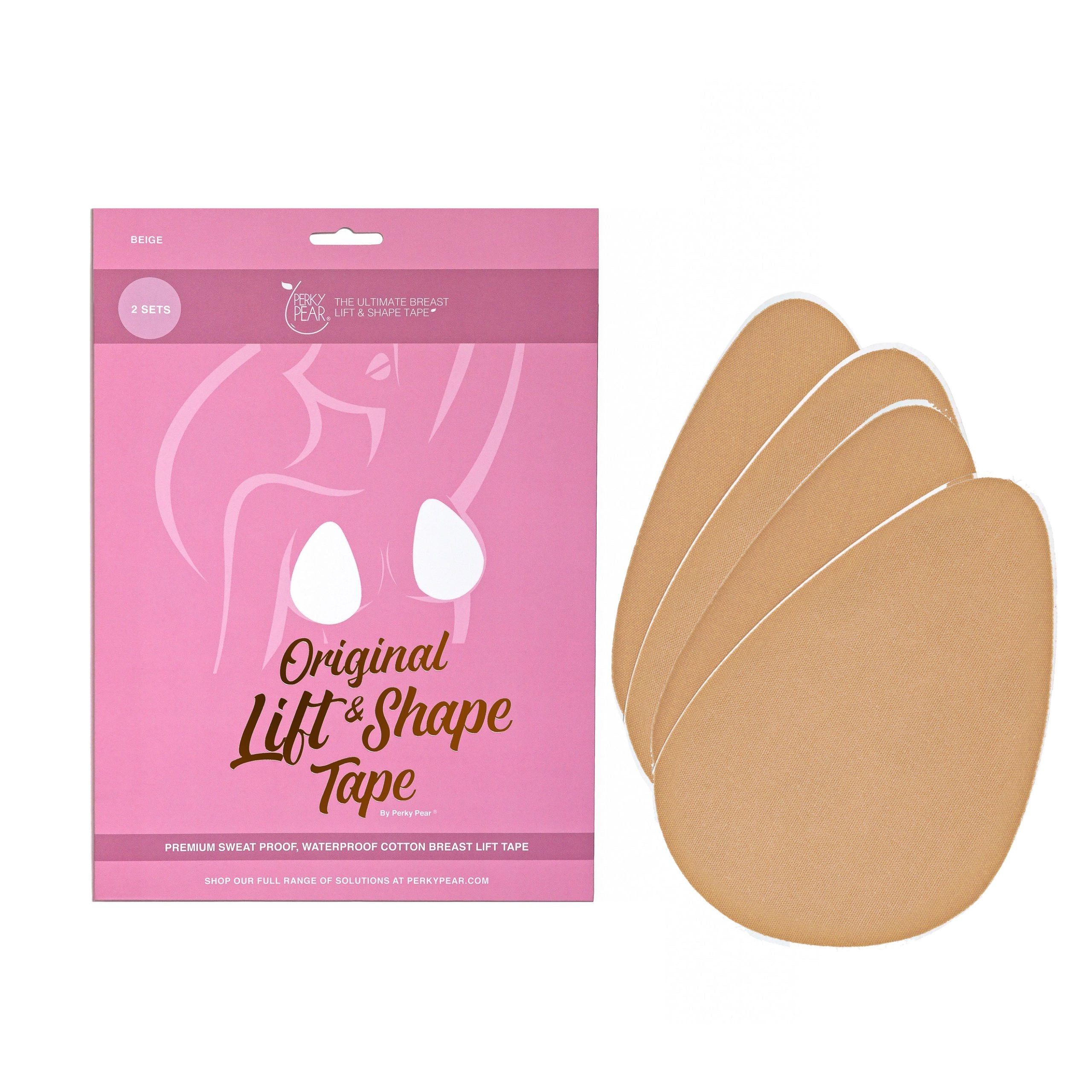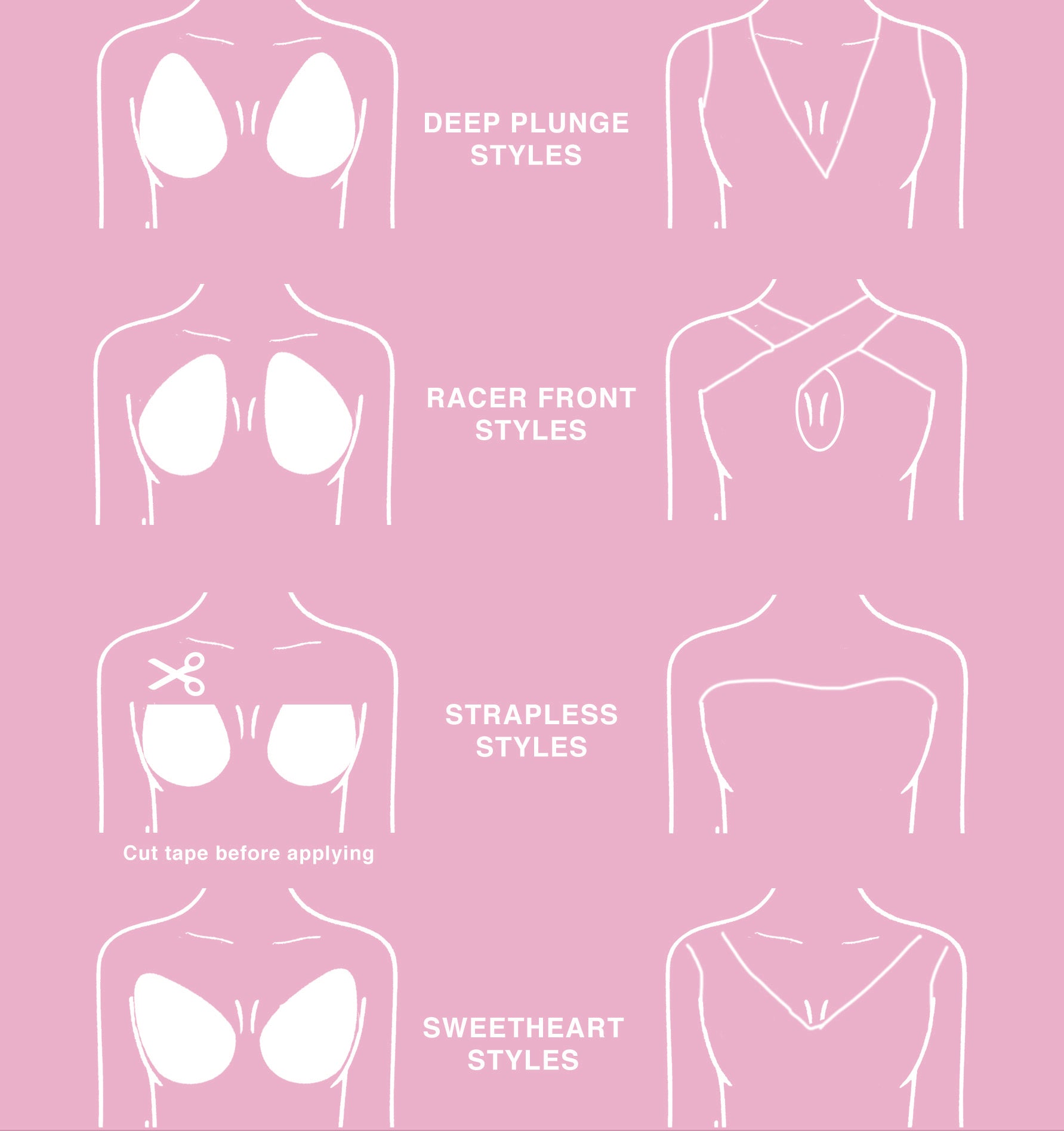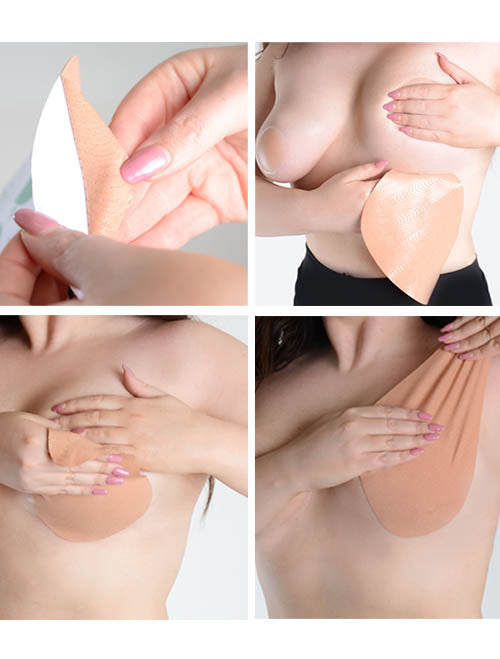 Size Guide
You may find that you aren't the same cup size in our lifts as you are in your usual bra cups.
Our tape is based on UK cup sizing. If you have a larger back/ band size of 36+ we recommend going up a cup size up.
If you have a small back & band size below a 32 then we recommend going down a cup size, If you are a cup size H with a 30 back then our G tape should fit you. If you are a 32 or 34 back/band size then stay with your usual cup size.
36+ F/G cups please note: There is a chance that our tape in size F-G size will be too small as our width and sizes are based on a 32-34 back so if your back size is 36+ then you risk the chance of straining and pull to the skin or the tape straining and "Pinging Off". We wouldn't recommend purchasing the tape or proceed with care to avoid excess pull. It is advisable for 36+ F and upwards to add extra support with our DIY tape or Cleavage Sculpting Strips if you do decide to purchase the pear tape in F-G.
Perky Pear Breast Lift Tape Measurements.
HOW TO MEASURE YOURSELF FOR THE PEAR-FECT FIT!
Perky Pear Original Lift & Shape Tape comes in cup sizes but sometimes you may need to size up or down depending on the width of your breasts.
DO NOT measure the whole width of your breast.
Use our size guide and measure against yourself
WIDTH– Measure an inch from the nipple to the side of the breast at the widest part. Our tape is designed to be discreet & comes just past the nipple not too far into the cleavage
LENGTH- Measure from an inch under the bust Our tape comes an inch under the bust to support the weight from underneath Use a tailors tape measure or if you don't have one use a piece of ribbon and mark it so you can then measure it so you can then use our size guide to help you choose the correct size. Our size guide has the width and length measurements of all our tape.
Perky Pear Bandeau Size Guide
Our sizes are based on UK bra sizes. A USA size DDD is equivalent to a UK E. You can check the bra size converter for you country here:
Do not under any circumstances size down by more than one size. Always check our size guides and information.
Customer of 6 years!
Still a fave i think i'm on order 20 at this point i buy at least once a month to keep the girls looking good when i go out! I'm a F cup so the original tape is sooo good i dont like the roll of tapes as it is messy and layering on top of each strips makes it loose and messy at the top where as this tape is a one layer, stays put and is invisible even when i wear halterneck styles so this is a must for larger boobs over the rolls of tape
Honestly this is a game changer!
I am a 34G and honestly it works! I only wish that the removal oil came with the product and not seperately but i did buy the oil too and removal was fine considering i wore it for 9 hours!!